Southampton home of ex-Saints player Francis Benali burgled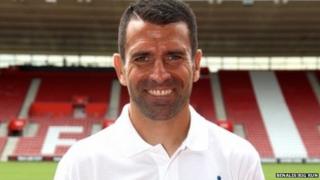 A former Southampton football player's home has been burgled.
Two computers containing family photographs were among the items taken from Francis Benali's home in the Highfield area of Southampton.
Police said the property was broken into between 17:30 and 20:30 GMT on Wednesday.
The former player, who made more than 300 appearances for Southampton Football Club, said it had been a "distressing intrusion".
Jewellery, including four wrist watches, earrings, necklaces and rings, were among the other items stolen.
Mr Benali said: "This has been a distressing intrusion of our family home, especially for my wife and children.
"In particular we have lost extremely sentimental items that cannot be replaced including photographs on the laptops and jewellery."
In September the former Saints full-back completed a three-week 1,000-mile (1,600km) challenge running to all 20 Premier League grounds.
Det Con Mark Bradley said: "Mr Benali is well known in Southampton and among football supporters and I hope that if anyone comes into contact with the laptops in particular they will recognise his photographs and get in contact with us."