'Mindless' vandals target 21 cars in Southsea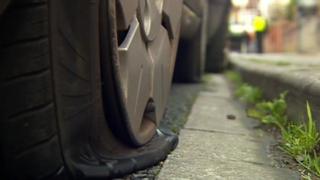 Dozens of car tyres have been slashed in a "mindless act" of vandalism in Portsmouth, according to police.
At least 21 cars in Festing Road and Salisbury Road in Southsea were targeted overnight.
It is thought a blade was used to puncture holes in the tyres. The damage has left many victims unable to travel for Christmas and is set to cost some hundreds of pounds in repairs.
Police described it as a random attack and are appealing for witnesses.
Sgt Alan Cameron from Hampshire Police said: "Whoever is responsible for this mindless act of damage has not only impacted financially on their victims at an expensive time of year but may have also stopped some of them being able to travel to visit loved ones over this festive period."