Spider-Man surprise boy Jayden Wilson's funeral held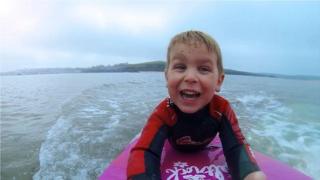 The funeral of a five-year-old boy whose Spider-Man birthday surprise video went viral has been held.
Jayden Wilson from Basingstoke, Hampshire, died on Christmas Eve after a battling an inoperable brain tumour.
A video of the young Spider-Man fan's surprised reaction when the super hero jumped from his roof has reached 9.5 million hits on YouTube.
His family said Jayden was "going out in style with a red and blue colour theme" before being cremated.
'Cartoon theme tunes'
The funeral at Basingstoke Crematorium, which is for family and close friends only, featured some of Jayden's "favourite cartoon theme tunes, including school songs which he loved and obviously including his super hero Spider-Man", his family said.
The Facebook page Hope For Jayden has 45,000 followers but the boy's story went viral round the world after his father Michael, an athlete, dressed up as Spider-Man as a birthday surprise and leapt from the roof of the family home.
Jayden was diagnosed with a "grade four" brain tumour - the fastest-growing and most malignant - after undergoing a CT scan following a bump on the head in 2013.
He died peacefully in his sleep. His family said he had had an "incredible five years".
They said they had many fund-raising events planned for 2015 in his memory, in particular for the Naomi House Children's Hospice in Hampshire, which cared for him.