Isle of Wight student dies on French Alps ski trip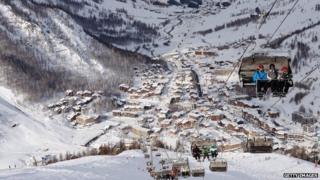 A college student who was on a skiing trip in France has been found dead.
Kieron Flux went missing after a night out in the Val d'Isere resort. A search helicopter found his body in the Gorges de la Daille on Wednesday.
The 18-year-old, from Newport, was a student at Isle of Wight College, where he was completing a plumbing and heating apprenticeship.
Principal Debbie Lavin said news of his death was greeted with "deep sadness" by staff and friends.
"I could immediately tell how popular Kieron was with both staff and students alike when I saw their reaction to the news," she said.
"My thoughts are completely with his family this day. This is so very sad."
The Foreign Office confirmed the death of a British national in France and said it was offering help to the family.