Isle of Wight tidal energy farm plans submitted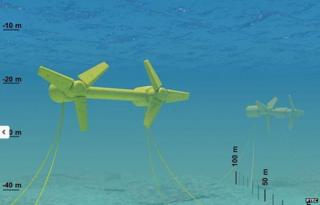 Plans to transform a section of seabed off the Isle of Wight into a tidal energy farm have been submitted.
The Perpetuus Tidal Energy Centre (PTEC) facility would allow developers to build underwater turbines off St Catherine's Point.
PTEC claim it would be the first of its kind in the world and generate enough electricity to power 15,000 homes.
Fishermen and businesses in Ventnor have signalled their opposition, claiming it will damage shellfish beds.
Mark Francis, PTEC project manager, said: "We have already undertaken a comprehensive programme of engagement with regulators, the local community and other stakeholders, and will continue to work closely with them as the project progresses."
PTEC has submitted its plans to the Marine Management Organisation and Isle of Wight Council.
If consent is giving, construction could start in late 2016.
The island's Conservative MP Andrew Turner has backed the idea and won support from David Cameron when he raised the issue during Prime Minster's Questions on Wednesday.