Isle Of Wight Tories call for MP Andrew Turner to quit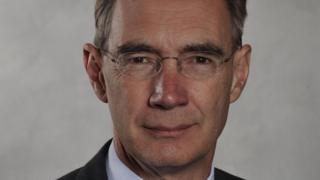 Members of the Isle of Wight Conservative Association have called for its MP Andrew Turner to stand down as a candidate in the General Election.
The MP has caused "turmoil" and should resign by 26 January, a motion to be considered by the association's executive council said.
By designating his home in Newport as a second home, Mr Turner was able to claim £103,000 in allowances.
The motion calls for Mr Turner to "put the interests of the island first".
Chairman Alan Wells said: "I am saddened we have reached this stage".
'No confidence'
The association said it would discuss the motion at an executive meeting on 23 January.
The motion proposes: "The executive council can no longer have confidence in Mr Turner's candidature and requests him to stand down as the candidate with immediate effect so that a replacement candidate can be selected with the minimum of delay."
Mr Turner, who was able to claim the allowances between 2004 to 2010, was not available for comment.
He was recently criticised by UKIP leader Nigel Farage, who said he should "come clean" and ask islanders' "permission" to continue in the job.