Isle Of Wight MP Andrew Turner resists calls to quit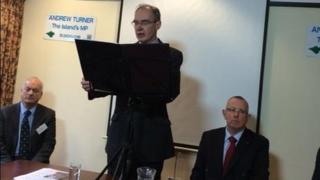 The Isle of Wight's Conservative MP has resisted calls from members of his own party to stand down as a general election candidate.
The Island's Conservative executive council will discuss a motion claiming he had caused "turmoil" over personal arrangements and past expenses.
Mr Turner said he would not resign "no matter what". His supporters believe the row could lead to losing the seat.
The MP reiterated he had aphasia but said he was "active and effective".
The condition, which affects the brain and can cause language problems, is a consequence of a stroke the MP suffered in 2006.
'Impression of chaos'
A motion submitted by an association member, which will be discussed at a meeting of the Island's Conservative Executive Council on 23 January, proposes: "The executive council can no longer have confidence in Mr Turner's candidature and requests him to stand down as the candidate with immediate effect."
A deadline of noon on 26 January has been set for the MP to stand down.
Two Conservative Association trustees wrote to Mr Turner saying he was "in thrall" and "totally dominated" by parliamentary aide and former partner Carole Dennett.
But Mr Turner told the BBC: "In the end, I make the decisions".
By designating his home in Newport as a second home, Mr Turner was able to claim £103,000 in allowances in 2004.
The MP said he "can't remember" what happened around that time in terms of why he was spending more time in London.
He said: "I must emphasise the party are absolutely behind me. This behaviour from a very small number of people is giving the impression of chaos."