Stricken Solent ship: Hoegh Osaka 'water pumping to begin'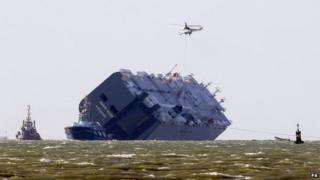 A salvage team is adjusting the ballast system of the stricken cargo ship Hoegh Osaka in a bid to start pumping water out of the vessel.
The Maritime and Coastguard Agency (MCA) said a team had restarted work on the ship, which is being secured by tugs off Lee-on-the-Solent.
Heavy winds this week have caused delays to the salvage operation.
It is hoped work to remove the water from the car decks on the ship will take place over the next 24 hours.
About 3,000 tonnes of excess water remains on the vessel and some of its cargo is submerged.
'Hull inspection'
An MCA spokeswoman said the ship held its position overnight despite gusts of 60 knots (111 km/h).
"If the good weather continues to allow the salvors to work we will hope there will be a reduction in the list of the vessel over the next few days," she added.
It is hoped divers will also carry out an inspection of the hull, with an update expected on Saturday.
The 51,000-tonne ship, carrying 1,400 cars and 105 pieces of construction equipment, was beached deliberately on Bramble Bank sandbank on 3 January after it began listing as it left Southampton.
It floated free from the sandbank on the high tide on 7 January and was towed to deeper water where it remains.
On Saturday, one of the tugs helping to keep the ship in place collided with the Singapore-registered transporter in high winds.
An air exclusion zone of 984ft (300m) is in place around the vessel, which is listing at 52 degrees, so a dedicated helicopter can carry the team, from salvage company Svitzer, to and from the ship.