Healthwatch film highlights transgender issues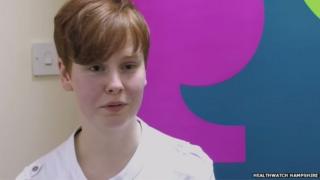 Issues facing people embarking on changing their gender are being highlighted in a film made by a Hampshire health watchdog.
Healthwatch Hampshire worked with a charity recording patient experiences.
One participant in the video recalls being told by a GP he was "wasting surgery time".
Steve Taylor, of Healthwatch Hampshire, said he hoped health professionals would "better appreciate" patients' needs after seeing the film.
The 15-minute film, Listening to the Transgender Community, was premiered earlier at a fundraising event for the transgender support charity, Chrysalis, in Fareham.
It follows the process of treatment from initial GP appointment through to hormone treatment and surgery.
In it, a 21-year-old transitioning adult, Sammy Jo, speaks about his experience when he went to his GP, and describes how he was made to feel like a "waste of space".
Mr Taylor said: "I hope the film will be used by people who work in the health service to better appreciate the needs of these people.
"Those who face the sorts of issues faced by the people in this video will hopefully know they are not alone and can get support and help."