Three strikes bin ban for Hampshire recyclers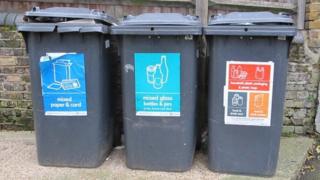 Enforcers could be sent to tackle people who wrongly recycle in a "three strikes" policy being discussed by Hampshire bin bosses.
The proposal would also see bins not being emptied if residents repeatedly put recycling in the wrong container.
If recyclable material is found in the general waste bin twice a warning will be left and the third time the rubbish will not be taken.
Hart District Council has agreed the scheme and another is discussing it.
Councillors at Basingstoke and Deane Borough Council are to consider giving "amber warnings" to repeat offenders before issuing sanctions.
Other proposals are banning garden waste from residual waste bins and introducing 140 litre glass recycling bins.
John Elson, head of technical and environmental services at Hart District Council, said the details are being decided but waste collection teams would keep track of which households were routinely putting recycling in the generic bin.
He said it would have to be "a significant amount" and this would be monitored via a computer system.
The first two times recycling material is noticed the bin "will be emptied but an amber hanger will be left on the bin". The third time "a red hanger will be left, and the bin will not be emptied".
Details will also be passed to the joint waste client team who will write or visit the resident concerned.