Stricken Solent ship: Hoegh Osaka list reduced by 13 degrees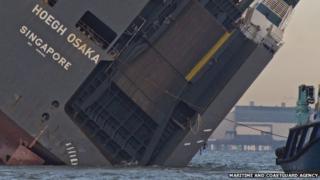 The angle of list of the Hoegh Osaka ship stranded in the Solent has been reduced by 13 degrees.
The cargo ship, at Alpha Anchorage between Lee-on-the-Solent, had been listing at 52 degrees but is now at 39.
It is being held in place by tugs and salvors have been pumping water out of the hull since Saturday.
The Maritime and Coastguard Agency said it was "unlikely" to be towed to Southampton port on Wednesday as it would need to reach a 15 degree list.
The 51,000-tonne ship, carrying 1,400 cars and 105 pieces of construction equipment, was deliberately beached on Bramble Bank sandbank on 3 January after it began listing as it left Southampton.
It floated free from the sandbank on the high tide on 7 January and was towed to deeper water where it remains.
On 11 January one of the tugs helping to keep the ship in place collided with the Singapore-registered transporter in high winds.
More than 3,000 tonnes of water had to be pumped from the hull to refloat the ship.