Isle of Wight Council to lease out countryside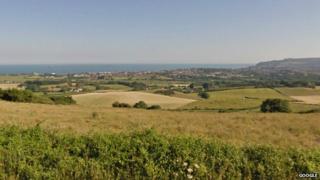 Isle of Wight Council is to hand over its countryside estate to an external organisation in a bid to save money.
It is offering a minimum 21-year lease on 170 hectares (420 acres) of land across 20 locations, including Brading Down and Golden Hill Country Park.
A spokesman said expressions of interest would be accepted from "suitably qualified organisations" that could meet a number of criteria.
The council has not revealed how much the plan is expected to save.
Earlier this month, it said it had to find £14.5m of cuts to balance its 2015/16 budget.
The spokesman said it was not clear whether any future deal would generate income for the council or serve only as a money-saving exercise.
Prospective land managers would have use of the council's depot, vehicle and tools and would receive council revenue grants totalling £121,000 over the first three years.
The successful bidder would also have access to Defra grants income from existing concessions at Brading Down and Blackgang Viewpoint car park, currently worth about £10,000 a year.
In return it would have to agree to maintain public access, conserve the landscape and increase community involvement.
The handover is expected to take place by 1 April.
Luisa Hillard, cabinet member for environment and a member of The Island Independents, said: "I can assure residents that the council takes its stewardship responsibilities very seriously and that we value our countryside as an asset for not only wildlife, but residents and visitors.
"Public access will therefore be protected so that we can all continue to enjoy these sites.
"I am confident that we will have some high quality applicants come forward who will be more able to invest and improve our countryside for the benefit of the island."
Since 2010, Isle of Wight Council has cut hundreds of jobs, closed public toilets and handed over leisure assets such as Ventnor Botanic Garden.