Winchester dumped matted dogs begin recovery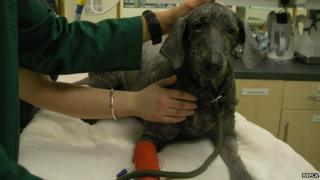 Nine dogs who were abandoned, each covered in 12kg (26lb) of matted fur, are beginning their recovery following treatment by vets.
Eight siblings and their mother were dumped around Winchester in such a bad state their breed could not be identified.
Winchester City Council's animal welfare officers described it as the worst case they had seen.
The RSPCA said the dogs were "unable to see or stand properly" at first.
Three of the dogs were found at Upham, three at Morestead Road, two at Owslebury and one at Alresford, in Winchester, Hampshire.
They were identified as poodle crosses.
The council said it took vets three hours to shave up to 12kg (26lb) of fur from each of the dogs - half their bodyweight.
A spokeswoman for the RSPCA said one of the dogs, Kate, had to be sedated towards the end of trimming her fur as she was very anxious.
Her condition has since improved and she has started to eat.
Her brother, Will, was on antibiotics "as his skin was very red" but was later moved to an RSPCA rescue centre with another three of the dogs, named Martha, Faye and Maria, the spokeswoman added.
The rest of the animals - Sian, Dave, Justin, Kate, and Mavis - have now also been sent to centres to be trained and exercised until they are well enough to go to new homes.
The RSPCA and Hampshire Constabulary are working with the council to try to find those responsible.