David Cameron's visit to Southampton causes GP 'chaos'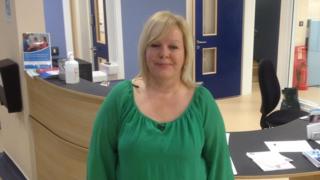 A GP practice manager has said a visit from Prime Minister David Cameron caused "chaos", with patients missing their appointments.
Julie Howgate, of Bursledon Surgery, said: "I thought David Cameron was in favour of GP access but they never thought about that today, did they?"
Mr Cameron gave a speech at a community centre, near Southampton, which shares a building with the practice.
A Conservative Party spokesman apologised for the inconvenience.
Ms Howgate told BBC Radio Solent: "All hell let loose, there were cars everywhere and people everywhere.
"The traffic got worse and worse, patients were unable to get in to the car park.
"The disabled bays were taken up by people visiting."
She said staff were late for work but the surgery ensured everyone was seen.
"We are very annoyed about it," Ms Howgate added.
"We obviously realise there are security risks and we appreciate that but we feel we should have been given a heads-up.
"Then we looked out of the window and a chicken turned up.
"The [Daily Mirror] chicken knew about it but everyone failed to tell us at the surgery."
John Misselbrook, chairman of Bursledon and District Community Association, said: "Due to security concerns, everyone involved in the recent event at the Bursledon Community Centre was explicitly told not to provide any details to a third party.
"If any leak had occurred, the security detail assigned by Scotland Yard would have been forced to cancel the event."