Winchester earthquake: Tremor felt as far as Bournemouth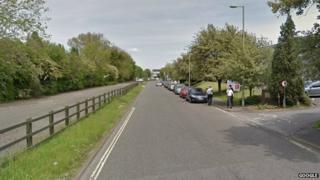 An earthquake with a magnitude of 2.9 recorded near Winchester was felt up to 38 miles (60km) away, the British Geological Survey (BGS) has said.
The BGS reported the tremor in the locality of Headborne Worthy and has since pinpointed the epicentre as the Winnall Trading Estate near the M3.
Reports of trembling at 18:30 GMT on Tuesday were received from as far as Bournemouth.
No injuries or serious damage have been reported.
'Rhino in the house'
The tremor was 3km in depth (1.9miles), just north-east of Winchester, according to the BGS.
Its online reporting system received reports of trembling being felt from locations as far afield as Newbury, Southampton and Bournemouth.
People compared the trembling to feeling like "a rhino had run into the house" and said items on windowsills rattled and "made very loud noises".
Using data from its network of seismographs, the BGS pinpointed the epicentre as being the Winnall Trading Estate beside Junction 9 of the M3 motorway.
BGS seismologist David Galloway said the UK experienced about 10 quakes of such a size each year which were "usually quite widely felt around the area".
"We live on a dynamic planet. We're actually sitting in the middle of one of the plates on the earth's crust, but because of the stresses caused by all the movement, we still get little earthquakes in the UK," he added.
Hampshire Constabulary said it had initially received lots of calls from concerned residents in the Kingsworthy area following reports of something which "felt like an explosion which shook their houses".