Isambard Brunel Junior School Hepatitis A case investigated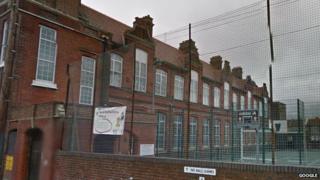 Vaccinations are being offered to staff and children at a school in Portsmouth after a case of Hepatitis A was discovered.
A pupil at Isambard Brunel Junior School contracted the illness, which is often associated with foreign travel.
Public Health England (PHE) has recommended vaccinations for those who have been in close contact with the child, including a class at the school.
It said the likelihood of the spread of infection was "low".
Initial enquiries have not linked the case with an outbreak of the illness in Portsmouth in November, in which seven people were infected and up to 150 people vaccinated.
'Precautionary measure'
Saliva samples are to be taken from children at the school but will only be tested for infection if there is a need to investigate the further spread of the illness, PHE said.
It said the illness was "very uncommon in England" and in young children symptoms were often very mild or not present.
Iain Gilmour, head teacher of the school said: "The health and wellbeing of our school community is our priority.
"We are working closely with PHE who is offering vaccinations to a small number of our children as a precautionary measure."