Photographs mark Southampton's 50 years of being a city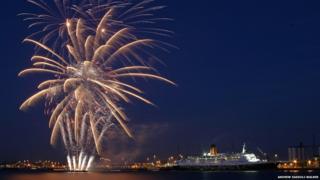 Photographs of landmarks and notable events have gone on show to mark the 50th anniversary of Southampton being awarded city status.
The 50 years of Southampton exhibition features residents' photographs of the Itchen Bridge as well as the docks and cruise liners on Southampton Water.
Pictures were submitted by members of the public in categories including family, landscape, sport and nature.
Organiser Tomasz Dyl said the entries had "exceeded expectations".
Southampton was awarded city status by royal charter on 24 February 1964.
A range of events has been held over the past 12 months to mark the anniversary, including a commemorative service at St Mary's Church and a sustainable development conference.
Many of the pictures depict major events in the city's maritime history - including the return of the Whitbread Race in 1994 and the final departure of QE2 in 2008.
Mr Dyl said more than 300 pictures were submitted during the anniversary year via the exhibition's website.
A panel of local businesses whittled the entries down to the final 50 to go on show.
"They are all very different pictures, memories and scenarios with different stories behind them.
"There are some very, very good photographs - it was a really hard decision." he said.
Some of the pictures entered reflect life and activity around the city's dockside, others show some of the areas of the city that have undergone redevelopment in the past 10 years.
The free exhibition runs until 28 February at Southampton Solent University.