Michael Jackson Thriller: Head apologises for showing zombie video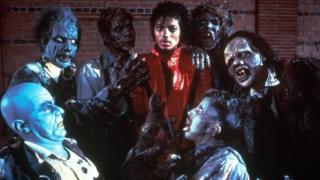 A primary school head teacher has apologised after parents complained children had been upset by being shown Michael Jackson's Thriller video.
Year Three pupils at Berrywood Primary School, Hedge End in Hampshire were shown the 1983 video, containing its famous zombie dance sequence.
Head teacher Chris Reilly said it was an "error of judgement".
The release of the 14-minute Thriller video is regarded as one of the defining moments in pop history.
'Sensitive and caring'
Parents complained that their children, aged seven and eight, had suffered "night terrors" after watching the video, which shows Jackson turning into a zombie and dancing with the undead.
In a letter sent to parents, Mr Reilly said the video had been shown as part of a National Curriculum music studies lesson entitled "developing an understanding of music history".
"The vast majority of the content they saw was the dance sequence, however, I acknowledge that this included brief images which caused some children to be upset.
"At Berrywood, we have been working hard to ensure that through our teaching we inspire, excite and engage children in learning and that we do so in a responsible, sensitive and caring environment," he added.