Arctic Convoy medals awarded on the Isle of Wight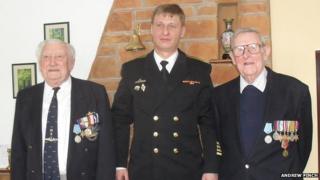 Two men who took part in the Arctic convoys during World War 2 have been awarded medals 70 years after the war.
John Finch and Alan Emery, who turn 89 and 90 respectively next Friday, were given the medals from a representative from the Russian Embassy.
The neighbours were visited at Mr Finch's home on the Isle of Wight for the ceremony, which he described as "emotional".
Arctic convoys during World War Two helped resupply the Soviet Union.
Mr Finch, who served in the Royal Navy for 29 years, said: "It was brilliant, it couldn't have gone any better.
"It was very moving and very emotional."
He said the medals were made of Russian silver and came with a certificate that was signed by President Vladimir Putin.
---
What were Arctic Convoys?
•They consisted of vessels which travelled from Britain to northern Russia to resupply the Soviet Union during World War 2
•Under constant threat of attack by German U-boats and aircraft, the craft also had to deal with severe cold, storms, and ice
•By May 1945, the Arctic route had claimed 104 merchant and 16 military vessels. Thousands of Allied seamen lost their lives
Source: National Maritime Museum
---
Mr Finch said the medication he is on makes him hallucinate and each morning he wakes up with the vision of a torpedo track passing by his boat.
The former lookout boy said he had largely forgotten nearly being hit by the missile and other "horrific" things seen during the war.