World War Two D-Day orders found under New Forest hotel floor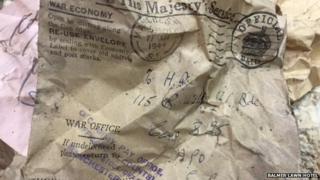 World War Two military documents have been found under the floorboards of a Hampshire hotel.
Balmer Lawn Hotel in the New Forest served as a military staff college in the war and was involved in running operations surrounding D-Day in 1944.
Owner Chris Wilson said "half a bin bag full" of typed documents and envelopes, some marked as Top Secret, were recovered during refurbishments.
Most are thought to relate to the Canadian military.
The building, near Brockenhurst, was commandeered as an Army Staff College during World War Two.
Mr Wilson said: "We've found spent ammunition under floorboards before, but never this quantity of documents. It ties the hotel to its history.
"They are quite detailed and specific orders to be followed by troops on the ground."
'Dusty and dirty'
The find is even more remarkable as there was a major fire in the hotel in the 1970s.
Local historian John Wingham described the documents as "dusty, dirty and not in a great shape".
He said most appeared to relate to the Canadian military who were based at Balmer Lawn during the war.
One document refers to "D-Day 1", the day after D-Day, 7 June 1944, and mentions difficulties in setting up a 10-mile telephone cable as troops continued advancing further into northern France.
Another refers to arrangements in the mess, including an invitation to all personnel "to attend the American All variety Musical-Variety Show, Swingin' in the ETO".
Mr Wingham said he would be seeking more advice on conserving and analysing the documents.
---
The New Forest in World War Two
---