Marwell Zoo child scooter ban introduced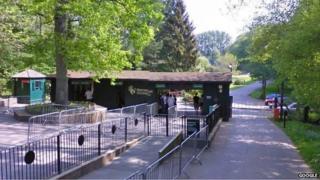 Children's scooters are being banned from a zoo after a series of "near misses", park chiefs have announced.
Marwell Zoo, near Winchester in Hampshire, said it was bringing in the ban following scooter misuse on the site and feedback from visitors.
Scooters will not be allowed into the zoo from 21 March.
The zoo restricted scooters last year, bringing in a height restriction for riders of under 1.07m (3ft 6ins) and the compulsory wearing of helmets.
'Little legs'
Marwell said since the restriction some guests had been "smuggling" scooters onto the site for older children to use and were not using helmets.
The announcement has received a mixed response on the zoo's Facebook page.
Alex Mitchell Tanner said: "This is really disappointing. The park is too big for little legs to get all the way round. Many people will miss out due to a few complaints."
Another Facebook post from Karen Marquick said: "Good news....zoos are for taking time and learning about the animals. Not scooting."
In a statement the zoo said: "We want to ensure that all of our guests have an enjoyable and stress free day.
"We have regretfully decided that scooters and similar push-alongs are no longer appropriate for this site."