Southampton City Council: 200 job cuts approved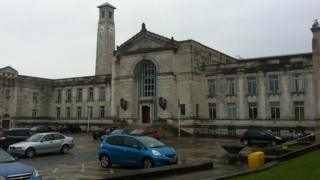 More than 200 jobs are set to go at Southampton City Council following a vote to approve budget cuts.
The authority proposed making £9.7m of "efficiencies and service reductions" to help close an estimated budget deficit of £31m in 2015/16.
A 1.99% Council Tax increase was also approved by the Labour-run authority.
Anti-cuts campaigners staged a protest outside the chamber before the meeting on Wednesday afternoon.
Council leader Simon Letts said closing posts, most of which were in the adult social care sector, was "always tough"
"We didn't come into power to cut services and our hearts go out to those on the front line and the staff who could lose their jobs.
"We have to set a balanced budget, within the resource we have available and we continue to do that by driving most of the savings through efficiencies," he said.
Mike Marx from the Trade Union Socialist Coalition said: "The people of Southampton didn't elect a Labour council to cut everything - they want services to be there."
The council sliced £8.1m from its costs in September and a one-off funding government contribution of £9.9m further reduces its £31m deficit.