Isle of Wight councillor questions pothole repairs 'a joke'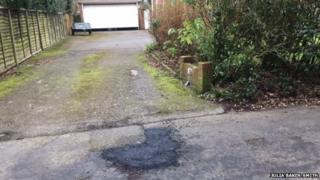 A councillor has questioned why potholes outside her home were filled when other more "dangerous" ones in the area were "ignored".
Isle of Wight councillor Julia Baker-Smith asked Island Roads, which manages the highways, if it was "some kind of joke", after she made complaints about several roads in East Cowes.
These included Adelaide Grove and Grange Road.
Island Roads said it inspected, categorised and prioritised repairs.
Miss Baker-Smith, ward member for Whippingham and Osborne, made the comments in an email to the firm.
It came after fixes to holes, which were originally highlighted to the firm before Christmas, had not been carried out, she said.
She said she was "delighted" when temporary repairs were made to holes outside her home.
However, she added: "Imagine my dismay when I went further down the road, and then to Adelaide Grove, Grange Road and Yarborough Road to discover that the only potholes you had fixed were those directly outside of my house, including a slightly rough area at the entrance to my driveway that hadn't yet become a pothole."
Following the email, Miss Baker-Smith said repairs on other roads were carried out.
'Held to account'
Island Roads said it would be contacting her to discuss her concerns in detail.
In a statement, it added: "[Potholes] representing an immediate safety risk are repaired quickly to remove the hazard and other defects that do not represent an immediate risk, are addressed either as part of ongoing planned maintenance or during the wider resurfacing programme."
It added it had already "addressed numerous sites in all districts including East Cowes".
Independent-led Isle of Wight Council transferred the maintenance of the island's highways to Island Roads in 2013 for 25 years, when it was led by the Conservatives.
The authority recently appointed consultancy firm Atkins to deal with concerns over the contract after being "inundated on a weekly basis" with issues, including potholes.
It provides about £600,000 a month towards the island's roads, with the rest of the £1.4m funding coming from central government.