Vista Independent Hospital: Patients moved after violence concerns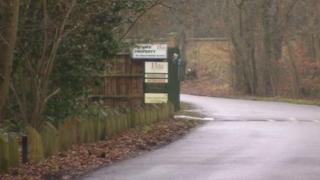 Patients have been moved out of a mental health hospital that was criticised over a "disturbing" number of violent attacks.
A Care Quality Commission (CQC) report said Vista Independent Hospital at Winchfield, Hampshire, recorded more than 300 violent incidents.
NHS England said its decision to move patients was to ensure they were "safe and well cared for".
Hospital owner Vista Healthcare said it was working hard to improve things.
A second CQC inspection was carried out earlier this month.
A spokesman for NHS England said Vista Healthcare has "failed to maintain safe standards of care and treatment for the vulnerable patients in its care".
'Considering further enforcement'
"Commissioners, working with the Care Quality Commission have acted promptly and already begun the process of transferring these patients, some with complex needs, to centres that can provide care to the appropriate standards," he said.
CQC inspectors - whose initial unannounced visit in November was made after concerns were raised - found multiple breaches of care, safety and health regulations.
It recorded 334 incidents of physical abuse or violence involving patients in seven months. There were 272 incidents of physical assaults on staff reported, with some needing hospital treatment.
The CQC said police had been involved in 22 incidents. The regulator formally warned Vista Healthcare, owned by Fairhome Care Group, to make urgent improvements.
The inspection also raised concerns over staff numbers, training and leadership.
A second inspection was carried out by a team of eight inspectors over three days from 3 February.
A CQC statement following that inspection, said: "We have discussed our findings with the provider and commissioners, and we are now considering whether further enforcement action is appropriate."
In a statement, Vista said the improvement order temporarily affects 18 of its beds in a hospital which is registered for up to 69 patients.
Vista added: "All of those involved in the management of the hospital and the care of patients remain determined to work closely with the CQC, NHS England, our staff and stakeholders to implement the improvements we all agree necessary for those who have been placed in our care."