Investigation continues into Isle of Wight prison blaze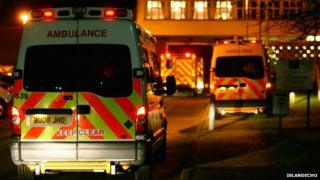 An investigation is continuing after a fire at an Isle of Wight prison.
Ten people needed medical treatment and prisoners were evacuated from their cells following the blaze in a corridor at HMP Isle of Wight on Wednesday.
St Mary's Hospital declared a major incident and mobilised extra staff.
A statement from the hospital said four patients were treated for the effects of breathing in smoke. Six others were treated at the jail, of which two were admitted to its own hospital unit.
The Ministry of Justice (MoJ) said all those treated had since been discharged,
A spokesman said the cause of the fire was being investigated but there had not been a riot.
He said a number of prisoners were relocated following the fire.
Crews were called to the Albany site of the category B prison in Newport shortly before 19:30 GMT to reports of a fire in House Unit 15 of Alpha Wing of the prison.
The blaze was extinguished by 21:00.
HMP Isle of Wight opened in 2009 following the merger of three prisons - Albany, Parkhurst and Camp Hill, although the latter facility closed in 2013.
The Albany facility occupies the site of a former military barracks on the outskirts of Newport.
The Ministry of Justice website describes it as "a category B training prison with an integrated population of vulnerable/sex offenders".