Payment delays treble at Hampshire administration centre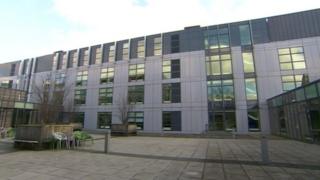 Payment delays to Hampshire County Council's suppliers have trebled since the authority merged its admin services with the police and fire services.
Finance, procurement and payroll services for all three bodies have been jointly handled since spring last year.
Figures obtained by the BBC showed more than 41,000 delayed payments over the first nine months of the current financial year.
Early issues with the scheme were being resolved, the council said.
The number of invoice payments delayed beyond 30 days rose to about 15% since services were centralised.
'Woefully inefficient'
Out of 267,071 invoices paid since April 2014, 41,322 were delayed, according to the figures.
Oxfordshire County Council is also due to join the system, designed to save £4m a year.
Richard Bambridge of Unite the Union said the system had also caused "considerable inconvenience" for members trying to resolve personnel issues and order stock.
He said he did not believe the issues were only because of "teething problems" cited by the council.
"Clearly from the feedback, the new system is woefully inefficient," he said.
"By using a centralised system, it takes a devil of a time to do what was previously done quite rapidly."
Hampshire County Council leader Roy Perry said there had been a few early-stage problems but he remained "wholly confident" in the partnership.
"These [issues] have been relatively small when considered in the overall scale of the project, and swift resolutions are being made," he said. 
Hampshire Police Federation chairman John Apter said officers had initially reported errors with payroll and expenses.
"If it had been introduced at a different time, when there wasn't so much going on with force change, it would have been seen as as a real benefit rather than a hindrance, which is unfortunate," he said.
"In fairness they are starting to sort the problems out," he said.