Portsmouth veterans targeted over health concerns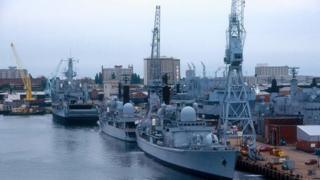 Former services personnel living in Portsmouth are to be targeted for support in using health services.
Doctors in the city say they find veterans are reluctant to come forward with healthcare issues, including post-traumatic stress disorder.
The NHS has awarded £30,000 to veterans' project Company of Makers.
It will use the cash to fund awareness days and a survey of the attitudes of those experiencing difficulties making the transition to civilian life.
Dr Elizabeth Fellows, from the city's NHS Clinical Commissioning Group, which is the funding the project, said many ex-services personnel experienced "adjustment disorder".
"It's a huge change from living on board ship or an Army base," she said.
"People don't like owning up to having difficulties.
"At the bottom end of the scale, people can divorce, lose contact with their children, have alcohol issues and end up living on the street - these people are really desperate and really struggling."