Marchwood's Cork's Farm plant prompts demonstration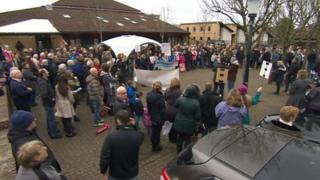 Hundreds of residents have protested against plans for an energy-from-food waste plant in Hampshire.
The facility at Cork's Farm in Marchwood, near Southampton, would create power for more than 12,000 homes, according to the developers.
But, campaigners are concerned about increased HGV traffic, air pollution and "gut-wrenching smells".
"We respect the protesters' right to protest peacefully," landowner Barker-Mill Estates said.
"We are committed to listening to feedback from the community at this early stage in developing the proposals and we will, where possible, use feedback to help shape the final plans."
The plans, which went on display in the village hall on Friday, also include a business park and community facilities, such as allotments and a community orchard.
The proposed £10m development, which could create up to 40 jobs, would generate renewable energy as well as recycle food waste from local supermarkets, restaurants, schools and homes.
Despite being a village, Marchwood is already the home of a refuse incinerator, a sewage works, a military port and a power station.
Campaigner Mike Collingwood said: "Coming into the village at the moment we've got a huge amount of HGV traffic.
"If this plant goes ahead it's just going to make gridlock in the area itself. It's beyond capacity as it is."
The developer said the plant would generate 16 vehicle movements a day, and the business park 400 vehicle movements.