New Forest beach rescue after mother and daughter stuck in mud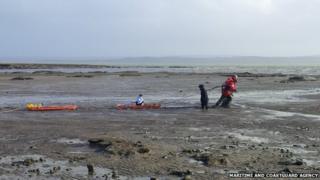 A mother and daughter had to be rescued by coastguards after becoming stuck in mud on a New Forest beach.
The woman became trapped as she tried to free her daughter, 11, who was submerged knee-deep in the mud.
The coastguard and fire service were called to Lymington at 14:30 GMT on Sunday. The pair were stuck 30m (98ft) from the shoreline for an hour.
The mother was treated for the effects of the cold while the girl had a leg injury.
Family members raised the alarm after the mother had tried to pull her daughter from the mud at Tanners Lane, East End.
Lymington Coastguard, assisted by Hill Head Coastguard and Hampshire Fire and Rescue service, arrived at the scene at 14:40 GMT and the pair were freed by 15:20 GMT.
Colin Tabor, station officer at Lymington Coastguard, said: "This was a challenging one because of the location and also because we were faced with deteriorating weather conditions and a flood tide."
The pair were taken to Southampton General Hospital.
The coastguard and emergency services also rescued a man from mud in Milton, Portsmouth, at 20:30 GMT on Sunday.
He was unhurt.