Isle of Wight cut-out man graffiti on landslide road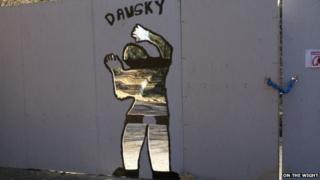 A man-shaped hole has appeared in hoardings surrounding a road cut off by a landslide on the Isle of Wight.
The Banksy-style artwork has been cut through road closure barriers at Undercliff Drive.
The road has been fenced off to stop vehicles accessing a temporary route built by residents but which was shut by the council over safety concerns.
The carriageway collapsed in severe weather in February 2014.
Simon Perry, from Isle of Wight news website OnTheWight said: "Ventnor is a very artistic town, it's unsurprising that support for the long-suffering residents in this area comes out in a creative way."
Island Roads, which put up the barrier, has yet to comment.
The road closure between Niton and St Lawrence means a four-mile detour and leaves nine residents stranded.
Plans for a new road costing up to £500,000 were agreed by Isle of Wight Council in October 2014.
The authority said the work would "commence and be completed as soon as is possible".
Councillor Phil Jordan said: "I would like to reassure residents that we are treating this as an absolute priority and fully understand the frustrations they are experiencing."