Pennie Davis death: Woman 'killed over sex assault claim'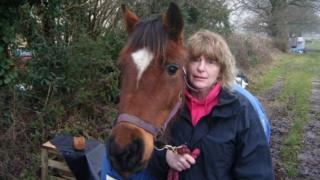 A mother was stabbed to death in the New Forest to stop her making a sex assault allegation, a jury has heard.
Justin Robertson, 36, is accused of murdering supermarket worker Pennie Davis, 47, for money promised to him by his co-defendant Benjamin Carr, 22.
Ms Davis was found in a field by her husband near Beaulieu, Hampshire, on 2 September with multiple stab wounds.
Mr Robertson denies murder. He, Mr Carr and a third defendant, Samantha Maclean, 28, deny conspiracy to murder.
Richard Smith QC, prosecuting, said: "Why would Ben Carr want Penelope Davis killed?
"The answer to that question, which will remain at the heart of this trial, probably lies in the fact that Ben Carr believed that Mrs Davis was going to go to the police, as she had done before, and allege that he had previously indecently assaulted [someone]."
'Lasting hate'
The court heard Ms Davis, a mother-of-five, had been in a relationship with Mr Carr's father, Timothy, from about 2006 to 2012.
Mr Smith said Mr Carr had "lasting hate and anger" towards her after she made a complaint to police about allegations of sexual assault against him when he was 14.
He said Ms Davis had repeated the allegations in August last year after she found out Timothy Carr was to marry his new partner, Alison Macintyre.
The court heard Ms Davis sent Facebook messages to Ms Macintyre including one that said: "Good luck, you will need it."
Mr Smith said: "The truth of those allegations matter not a jot. When you are simply accused of something like that it touches, in the most difficult way, all parts of your life."
The court heard Ms Davis had gone to tend her horses when she was killed and police connected Mr Robertson to the scene because he dropped the keys to Ms Maclean's car in the field.
Mr Smith said Mr Carr had promised to pay Mr Robertson "a cheap price" of £1,500 for the killing.
Mr Robertson, of no fixed address, and Ms Maclean, of Beech Crescent, Hythe, deny any part in the murder.
Mr Carr, from Shirley, Southampton, claims he recruited Mr Robertson to scare Ms Davis, not kill her.
The trial continues.