Preferred bidder named for military port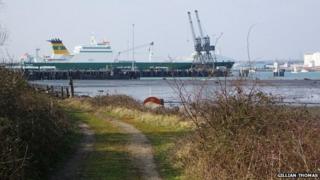 A private company has been selected as the preferred bidder to run a military port near Southampton.
The Ministry of Defence (MoD) has chosen Solent Gateway Ltd to manage Marchwood Sea Mounting Centre following a tendering process begun in May.
The 91-hectare port facility is used by the MoD to send material overseas.
It is currently operating below capacity and it is hoped the arrangement would generate profits for the government.
Defence Minister Philip Dunne said: "Maximising the commercial potential of the port will bring financial benefits for years to come, in terms of both profit share and the reduction in the cost of services to the Army.
"In addition, the deal will bring benefits to the local community, including safeguarding existing jobs and creating new ones."
The contract is yet to be signed but the MoD said plans are "on track" for the new operator to take over the running of Marchwood in the autumn.
If the agreement is signed, Solent Gateway Ltd is expected to develop areas of the port.
This will be a joint venture between David MacBrayne Limited and GBA (Holdings) Limited.