Portsmouth navy museum staff face job cuts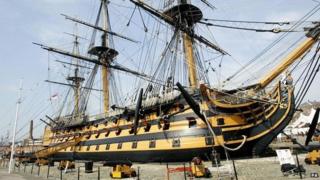 The National Museum of the Royal Navy is set to axe 30 jobs after a cut in funding from The Ministry of Defence.
The attraction in Portsmouth's Historic Dockyard said it was having to make an annual £600,000 saving.
The museum is made up of six attractions including HMS Victory, the Royal Marines Museum at Eastney and the Royal Navy Submarine Museum in Gosport.
A spokesman said: "In order to be sustainable and to secure our long-term future, this action is necessary."
The museum said it was was proposing to reorganise its staffing structure and was in talks with staff.
Its other sites are the Fleet Air Arm Museum, Yeovilton; Explosion, the Museum of Naval Firepower, Gosport and HMS Trincomalee (Hartlepool).
A spokesman for the Museums Association said: "This is a sad day for the National Museum of the Royal Navy and particularly for its staff.
"Unfortunately, this news is not an isolated case.
"Museums across the country are enduring substantial funding cuts from government.
"These cuts are putting jobs and museum collections at risk and reducing public access to our cultural heritage."