Compulsory behaviour lessons for Portsmouth councillors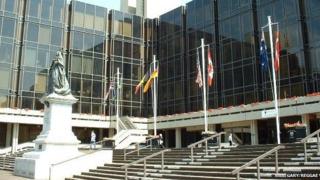 Compulsory behaviour lessons for councillors have been introduced at one authority in the wake of an investigation into bullying.
Portsmouth City Council launched a probe into an alleged "culture of bullying" last summer.
A report did not find evidence bullying was widespread, but some councillors' conduct could improve.
Chief executive David Williams said compulsory annual training would be introduced.
The report also found a number of councillors used social media in an "irresponsible and childish manner".
Its author, solicitor Richard Lingard, was commissioned to carry out the report last summer after a new administration gained control of the council.
Mr Lingard said he received 25 complaints, 10 of which fitted with the terms of his investigation.
His report said a number of councillors needed to "pay proper regard to the members' code of conduct" and accept "with good grace" they may get advice that "does not accord with their political or policy aspirations."
Mr Williams said: "I'm pleased that the independent investigation has concluded there is not a culture of bullying at the council."