Isle of Wight NHS Trust cancels non-urgent procedures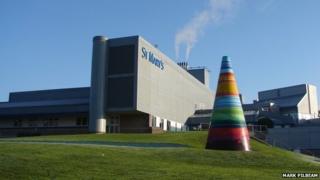 Non-urgent surgery on the Isle of Wight has been cancelled while the island's hospital struggles to cope with an increase in patients.
Isle of Wight NHS Trust announced on 27 February it would cancel procedures for nine days at St Mary's Hospital.
But it said that due to "sustained pressure" this would be extended until the end of the week.
Shaun Stacey, interim deputy chief operating officer, said there was "no particular reason" for the increase.
However, the admittance of "more elderly poorly patients" could be a factor, he added.
All patients affected have been contacted by the trust.
Mr Stacey said: "We have additional beds which we are opening to cope with the increase in emergency admissions and we are asking any nursing, healthcare assistants, ambulance staff, paramedics or occupational therapists who are able to work extra hours to contact the trust.
"We are doing everything possible to make sure that where operations have to be cancelled, patients are being offered a new appointment as quickly as possible."
The Care Quality Commission (CQC) rated acute services at the hospital as "requiring improvement" in September.