Pennie Davis death: Justin Robertson 'confessed to killing'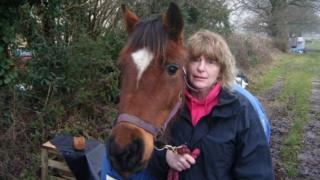 A man accused of stabbing a woman to death in a Hampshire field confessed his crime to a friend, a court has heard.
Pennie Davis, 47, was killed in the New Forest on 2 September.
Justin Robertson, 36, denies murder. He, along with co-defendants Benjamin Carr, 22, and Samantha Maclean, 28, deny conspiracy to murder.
Giving evidence, Natasha Brook told Winchester Crown Court Mr Robertson came clean to her about the murder.
But she said she did not tell the police for several days because she was scared she would be in trouble for keeping quiet.
She said she was also afraid of Mr Robertson.
She added: "Talking to the police was like signing a death warrant but I had to do what was right.
"I needed to stand up for her [Ms Davis]. If it was me who'd been killed and someone had been told, then I'd want them to stand up for me and my family."
Ms Brook had known Mr Robertson between 15 and 20 years, and they had been close for five years, she told the court.
Cannabis plants
She described him as always in trouble with the police, and very persuasive and hard to say no to.
"He's lethal. He has his fingers in lots of things and can always find out what he wants to know and get what he wants," she said.
Under cross examination from Mr Robertson's barrister, Rupert Pardoe, she admitted she let him grow cannabis plants on top of the wardrobe in her bedroom, but she denied knowing what they were.
"I don't have green fingers. I may be naive but I'm not lying," she told the court.
But the defence argued that Mr Robertson had come round to her house to check the cannabis cuttings and they rowed because he accused of her not looking after them.
"You were going to share the money made from the cannabis," Mr Pardoe said. "There would have been thousands of pounds for each of you because there were 60 plants."
Ms Brook replied: "No."
He continued: "You are falsely implicating him in this crime."
She responded: "I'm telling the truth."
He asked: "Is what you said about the plants as truthful as everything else you've said?"
"Yes," she replied.
The trial continues.