University Hospital Southampton 'failed' 95-year-old patient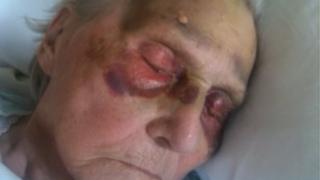 A 95-year-old woman who fell in hospital and suffered "severe" facial bruising before she died was failed by her NHS Trust, an ombudsman has found.
"Vulnerable" Monica Bridle fell between the wall and her bed at University Hospital Southampton in 2013 but staff failed to inform her family.
Staff also did not tell them Mrs Bridle had been discharged back to her nursing home, where she died five days later.
The hospital said it had "unreservedly apologised" to her family.
'Shaken and shocked'
The family only found out Mrs Bridle had been discharged when her son had gone to the hospital and discovered she was no longer there, the ombudsman's report said.
Mrs Bridle's daughter Maureen Wylie said she was "shaken and shocked" to see her mother at the nursing home with bruises on her face.
She said: "I still get flashbacks. How can this happen, in 2013, to a 95-year-old lady?"
Parliamentary and Health Service Ombudsman Julie Mellor said Mrs Bridle fell out of bed while one healthcare assistant was changing her bedding, when at least two members of staff should have been involved.
The hospital also did not record the injuries in her hospital discharge paperwork.
Ms Mellor said the case highlighted "the effect poor communication in the health service can have on people" and said the daughter's experience was "very distressing".
Judy Gillow, director of nursing at the hospital, said: "There were a number of aspects of this patient's care that we did not get right and we have unreservedly apologised to her family for that.
"In addition to intensive retraining and monitoring, we have also introduced an electronic system for reporting falls and the implementation of much more stringent processes for communication with relatives."