Hampshire victims of childhood abuse speak out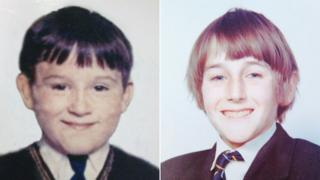 Two former pupils at a Hampshire approved school have spoken out about the "horrific abuse" they suffered in the 1970s.
Dale Hooper and Paul Carver say they endured serious physical and sexual abuse at Winton House, a former county council-run boys' home in Winchester.
More than 30 alleged victims are suing the council for damages over the abuse and lasting effects.
The men waived their anonymity to speak to the BBC about their experiences.
Mr Carver was placed in care at Winton House in 1971 aged 11.
'Screaming for help'
He said: "Several teachers abused me, and other pupils. You just felt so alone. I never told anyone about it because I felt I was at fault in some way.
"It makes me feel sick. Those people responsible should be punished and brought to justice."
Dale Hooper arrived at what he calls the "cauldron of hate" in 1972.
He said: "It was horrific. It was like a serious game of hide and seek. If you got found, you got beaten up."
As a 12-year-old boy he wrote a letter to his social worker at Hampshire County Council, begging to be moved as he was suffering abuse.
The letter had been kept in his social services file and was shown to him by his solicitor 40 years later.
He said: "I was a little boy, that's all I was. A little boy screaming for help and trying to make people aware of what was going on.
"Even though that amount of time has gone, there's still a debt to be paid in the justice system.
"Justice has to be seen to be done."
'This is real'
Up to 34 former pupils are bringing a civil case against the council to the High Court.
It is claimed the head teacher at the time, who is now dead, brought pupils to his office to be sexually abused.
Mr Hooper said: "I want to make the public aware that this is real, it is not people wanting attention and wanting compensation."
Solicitor Charles Derham, who is representing their case, said: "It would appear that on the face of it many [staff] were there to commit the alleged offences."
Allegations of abuse against at least 18 perpetrators at Winton House in the 1960s and 70s have been raised.
Hampshire Constabulary has investigated the claims but last year the Crown Prosecution Service decided there was not enough evidence to pursue cases.
In one case this was due to a suspect's "advanced age and very poor health".
Peter Saunders from the National Association of People Abused in Childhood said victims can find closure if they pursue a civil claim.
He said: "If justice is denied to the victims through the inability to prosecute the abusers, then they have the absolute right, to sue the authorities."
A Hampshire County Council spokesperson said: "As there are ongoing civil proceedings, it would be inappropriate to comment any further at this time."
The council added that Winton House changed from an approved school to a community version on 1 April 1973.