Pennie Davis death: Murder accused 'was arranging drug deals'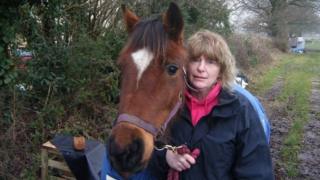 A man accused of murdering a woman in a field claimed phone calls he made near the scene related to drug deals, a court has heard.
Justin Robertson, 36, said he was looking for houses to burgle near Leygreen Farm in the New Forest at the time of Pennie Davis' death.
He also told police he did not know how a key from a car he'd been driving ended up next to her body.
Mr Robertson denies murdering Ms Davis, 47, last September.
In transcripts of police interviews read to a jury at Winchester Crown Court, Mr Robertson said "there was no way on earth" he was capable of killing Ms Davis.
Mr Robertson told police: "I've seen CSI programmes, there's no way I'm going to organise a murder through things like phone messages and texts, everyone knows that."
He said he was near the New Forest field where Ms Davis died on 2 September because he was looking for houses to break in to.
He told police calls to co-defendant Ben Carr, accused of paying Mr Robertson to murder Ms Davis, concerned drug deals.
He denies murder and conspiracy to murder.
The keys found next to Ms Davis' body belonged to a car owned by co-accused Samantha McLean.
Both Mr Carr and Ms Maclean, 28, of Beech Crescent, Hythe, deny conspiracy to murder.
Richard Smith QC, prosecuting, previously told the court Mr Carr, 22 of Shirley, Southampton had "lasting hate and anger" towards her after she made a complaint to police about allegations of sexual assault against him when he was 14.
Ms Davis had been in a long-term relationship with Mr Carr's father from about 2006-2012.
He was allegedly angry that Ms Davis had threatened to report Mr Carr again over the historic allegations.
The case continues.