Pennie Davis death: Burglar denies killing Pennie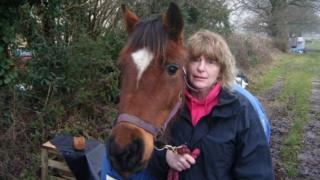 A man accused of murdering a woman in a field has admitted to a string of robberies in the "posh area", but denied killing her, a court has heard.
Pennie Davis, 47, was stabbed to death in the New Forest on 2 September.
Justin Robertson, 36, denies murder. He, along with co-defendants Benjamin Carr, 22, and Samantha Maclean, 28, deny conspiracy to murder.
Mr Robertson told Winchester Crown Court he had "definitely not" conspired to murder Mrs Davis.
The body of the mother-of-five was discovered by her husband of four months in the field in Beaulieu. She had been tending to her horses.
Laughed in court
Mr Robertson described it as a "posh area" that he had targeted for raids.
He said: "I robbed a butcher's shop out there, I robbed a clothes shop. It was rich people who didn't know how to protect it but I only steal things they could claim on their insurance and so didn't cost them."
Mr Robertson also wrote down his ethos, which was heard in court.
It said: "Theft I love it, drugs I love it, murder I hate it. I steal money, I don't harm people, I have never hurt a woman, never carried an offensive weapon."
He said his only dealings with co-defendant Mr Carr had been about drugs, and that Mr Carr also owed him money.
He added: "Ben is very persuasive, but he had me convinced I would get my money back."
The trial continues.