'Underweight' horses removed from Osborne House on Isle of Wight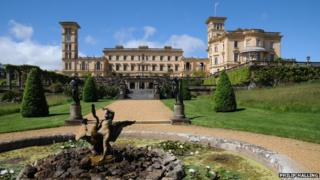 Two horses used for carriage rides at Queen Victoria's former Isle of Wight residence have been seized by police over animal cruelty concerns.
The Clydesdale horses kept at Osborne House in East Cowes were feared to be underweight and living in poor conditions, the RSPCA said.
Osborne House said the horses were used by an independent operator.
Members of staff at the house had alerted the RSPCA with concerns over their welfare.
General manager Rob Flower said English Heritage had now terminated the contract with the operator, who offered carriage rides at Osborne in exchange for free use of the stables and paddocks there.
He added: "We are deeply saddened by the situation. We were concerned about the treatment of the horses and alerted the RSPCA.
"Our first priority is the welfare of the horses."
The horses are now in the care of the RSPCA, which is carrying out an investigation.