Pennie Davis death: Victim was 'warned off wedding'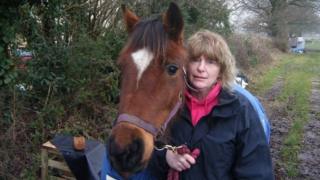 A man accused of plotting to kill his father's ex-lover has told a court he paid the man accused of her murder £400 to "warn her" away from his family.
Pennie Davis, 47, was stabbed to death in the New Forest on 2 September.
Benjamin Carr, 22, told Winchester Crown Court he thought she would disrupt his father Timothy's wedding to another woman, so he asked co-accused Justin Robertson to scare her off.
Mr Carr denies conspiracy to murder while Mr Robertson, 36, denies murder.
Samantha Maclean, 28, also denies conspiracy to murder.
The court heard Mrs Davis had been in a relationship with Timothy Carr from about 2006 to 2012.
His son admitted to being "furious" with her after she contacted his father's fiancée Alison Macintyre on Facebook, and was concerned she would interrupt the service.
He told the court he subsequently arranged for Mr Robertson to use "physical words, no actual physical violence, to warn her to back away from me and my family and the wedding".
Mr Carr said he offered Mr Robertson £400 cash and a quarter-gram of cocaine in return for his services.
The jury heard the plan was to tie Mrs Davis up with a rope, but Mr Carr said Robertson had panicked and stabbed her after the balaclava disguise he had been wearing came off.
Mr Carr said he had tried to create an alibi, after Mrs Davis had previously threatened to tell police about sexual assault allegations against him when he was aged 14.
"I was going to be out with friends, seen on camera," he said.
"I could have said it was nothing to do with me, I was out with my friends all day, if she tried to accuse me where she had falsely accused me before, I could say it wasn't me.
"An alibi was important because a serious thing was happening."
Mrs Davis' body was discovered by her husband of four months in a field in Beaulieu, Hampshire. She had been tending to her horses.
The trial continues.