Southampton General Hospital reveals Burger King replacements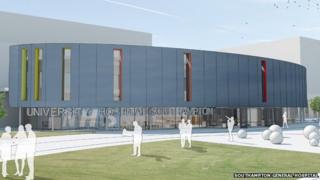 The food retailers that are to replace a burger outlet inside the redeveloped entrance to Southampton General Hospital have been revealed.
An M&S shop and cafe and a Subway will occupy the retail area, along with Costa Coffee.
Last year a campaign was launched to save the Burger King currently located in the foyer when it was announced its lease would not be renewed.
The hospital said it was providing a "more diverse choice of food outlets".
The £2.5m redevelopment of the hospital entrance is being funded through a public-private partnership between the NHS and construction and property company Interserve Prime.
University Hospital Southampton NHS Foundation Trust said it would "improve the patient, visitor and staff experience", as well as providing additional revenue for the trust.
More than 230 people signed an online petition to save the Burger King outlet, which has been located in the hospital for the past 20 years, arguing it had been a "lifeline" to patients and visitors.
Changes to the hospital's road layout as well as alternative entrances and a temporary reception desk will be set up while the building work is carried out.
The new retail area is expected to be completed by January.