Isle of Wight hospital 'ambluance' sign blamed on firm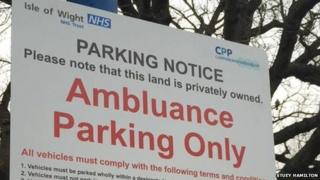 Hospital bosses have blamed a private company for a spelling mistake on its car park signs.
Two notices at St Mary's on the Isle of Wight warn drivers not to use an "ambluance parking only" area.
Julie Packer informed the BBC via Facebook after seeing a photograph of the error.
The Isle of Wight NHS Trust said private firm Car Parking Partnership (CPP), whose logo appears on the signs, had made the mistake.
A spokesperson from ParkingEye, speaking on behalf of the firm, said: "The production of this sign was subcontracted to a third party by CPP.
"The misspelling will be corrected as soon as possible."