Driver trapped in burning lorry in Totton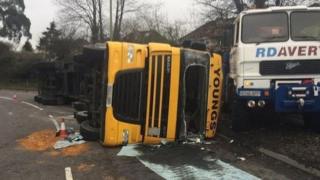 A lorry driver who became trapped in his overturned and burning vehicle was "very lucky" to emerge unscathed, police have said.
The crash happened late in the afternoon near Rushington roundabout on the A35, near Totton, Hampshire, causing long delays.
Hampshire Fire and Rescue Service and South Central Ambulance Service worked with police at the scene.
The driver was freed from the vehicle and declared injury-free.
Recovery of the vehicle began at 19:00 BST and was completed about an hour later.
The roundabout was reopened shortly afterwards.