Path upgrade of Meon Valley Trail criticised as 'insensitive'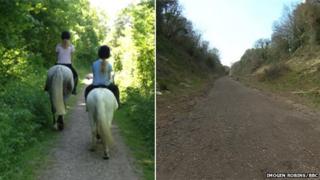 Users of a public footpath in rural Hampshire have branded work to upgrade it as "insensitive to the environment".
A stretch of the Meon Valley Trail has had trees removed and its natural surface replaced with a pathway of stone chippings.
Campaigners have set up an e-petition against what they describe as "urbanisation of a beauty spot".
Hampshire County Council and the South Downs National Park insist it will improve drainage, safety and access.
Work began over the winter on the ten mile stretch of trail between Wickham and West Meon.
The path, along the 10-mile (16km) route of a former railway line, is being scraped and resurfaced with stone chippings as part of a £300,000 improvement scheme.
Trees and undergrowth have been cut back from alongside the path.
Campaigner Imogen Robins said the changes had caused a "huge amount of upset".
"A real beauty spot had been stripped away - the canopy has all gone, there's no shelter and it's basically a mini-motorway. It hasn't been sensitive to the environment," she said.
A Facebook group has gained support from walkers and cyclists as well as horse riders who claim the stone chippings are harmful to their animals.
Georgy Evans, who regularly runs along the path, said: "The beautiful green tunnel - a typically English countryside effect - has been ruined.
"It's just not the country path we all knew and loved."
The council and park authority said the project would create "a safe, high quality, family friendly multi-user traffic-free route".
A statement said: "It will address the issues of a poor surface and drainage, safety concerns of unstable trees, lack of chalk download habitats, limited visibility of surrounding countryside caused by overgrown vegetation and a lack of information or interpretation of the history, geography and ecology."