First Calamosaurus fossil find on Isle of Wight for almost 140 years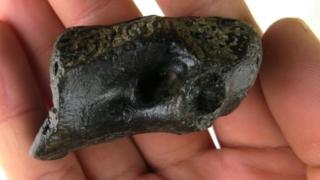 A fossil from a dinosaur has been discovered on the Isle of Wight, more than a century since the last remains of the predator were found.
A neck vertebra of a Calamosaurus was found on a beach by local fossil hunter Dave Badman.
A Calamosaurus fossil was last discovered by Reverend William Fox in the 1870s.
The newly discovered vertebra has gone on display at the Dinosaur Isle Museum in Sandown.
Calamosaurus was a small theropod predator that roamed the area which is now the Isle of Wight during the Barremian age, about 125 million years ago.
'Something different'
Mr Badman found the fossil at Chilton Chine before taking it to the museum for identification.
He said: "When I saw this fossil, I knew it was something different and that I had a great find.
"I am very pleased to donate my find to the museum so I know the specimen can help with the understanding of this elusive dinosaur."
William Fox was a leading Victorian palaeontologist. After his death, his collection of more than 500 fossils was acquired by the Natural History Museum.
While the collection was being catalogued, staff at the museum recognised two unusual vertebrae in the collection, which were later named as a new species Calamosaurus Foxi.
Since then, no other definite remains of this dinosaur have been found.
Alex Peaker, of Dinosaur Isle, said the find confirmed Fox's original discovery was "not just a one-off".
"It's a particularly rare find which will hopefully aid our knowledge of this particular enigmatic dinosaur."