Election 2015: UKIP candidate 'to be questioned' over sausage rolls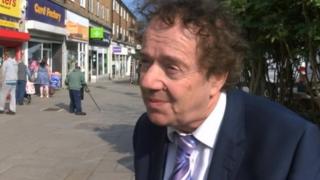 A UKIP parliamentary candidate is to be questioned over allegations he tried to influence voters by giving away sausage rolls at a party event featuring snooker star Jimmy White.
Kim Rose, standing in Southampton Itchen, said he had been told to report to police over allegations of treating.
Electoral Commission rules state food and entertainment cannot be provided by candidates to "corruptly influence" votes.
Hampshire police declined to comment.
Mr Rose said he held the event on 21 February at a community centre in Weston.
'Absolutely ridiculous'
He invited veteran snooker star Jimmy White, who he described as a long-time friend, to play pool with local youngsters. Adult entrants were charged £2 for the event.
Mr Rose said: "It was fantastic day. We laid on teas, coffees, sandwiches and some sausage rolls. Now I've been reported for allegations of treating.
"Maybe it's a bit naive but all the intentions were good.
"It's absolutely ridiculous. I'm sure people aren't going to change their mind [over voting] for a sausage roll," he said.
Mr Rose said he had been contacted by Hampshire Constabulary's Economic Crime Unit and asked to report to Romsey police station on Monday.
A force spokeswoman said: "In line with our policy, we would not comment on an issue relating to a non-arrested person."
The Electoral Commission said it was a police matter.
Its summary of electoral offences states: "A person is guilty of treating if... they directly or indirectly give or provide any food, drink, entertainment or provision to corruptly influence any voter to vote or refrain from voting.
"Treating requires a corrupt intent - it does not apply to ordinary hospitality."
---
The candidates for the constituency are:
Sue Atkins (Trade Unionist and Socialist Coalition)
Eleanor Bell (Liberal Democrat)
Rowenna Davis (Labour)
Kim Rose (UK Independence Party)
Royston Smith (Conservative)
John Spottiswoode (Green)
---