Isle of Wight brain-damaged man gets NHS seven-figure payout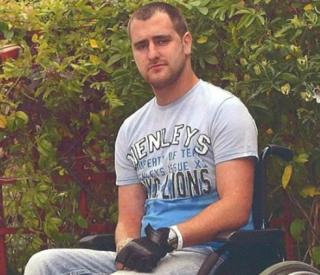 A man left brain-damaged after a fight in 2007 has received a seven-figure pay-out after medics failed to spot he had a skull fracture and haemorrhage.
Joe Triccas was 19 when he was taken to St Mary's Hospital on the Isle of Wight with a head injury.
Doctors discharged him without giving him an X-ray or CT scan but he then began to suffer fits and is now permanently brain damaged.
The Isle of Wight NHS Trust apologised for "the distress caused".
'Slurred speech'
Mr Triccas, now 28, was treated at the Newport hospital for the wound he received during a fight, his lawyers said.
His mother Queenie Triccas said: "I knew straight away that there was something badly wrong with Joe because his speech was slurred but nobody seemed to want to take any notice of me."
Once home from the hospital, Mr Triccas suffered fits and a partial loss of consciousness.
Four hours later was returned to St Mary's where a CT scan revealed the extent of his injuries.
He was left permanently brain-damaged, paralysed down the right side of his body and is now wheelchair dependent.
Clinical negligence specialist Patricia Wakeford from BL Claims Solicitors said: "It was the family's argument that had the proper investigations been carried out promptly then Mr Triccas's injuries would have been less severe."
The NHS trust offered a settlement payment, which was approved by the High Court.
A spokesman for the trust said: "Cases such as this one, which has been ongoing for some time, are extremely difficult for all concerned, especially the family.
"On behalf of the former primary care trust we extend our sincere apologies for the distress caused."