New Zealand students visit Hampshire war cemetery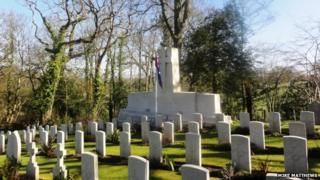 Students from New Zealand have visited a war cemetery in a Hampshire village to pay tribute to their countrymen killed in World War One.
Ninety-three New Zealand soldiers are buried at the graveyard at St Nicholas' Church in Brockenhurst.
The visit to the village was part of a tour of European locations linked to New Zealand's involvement in the war.
The 30 students took part in a remembrance service and visited the site of a military hospital.
Brockenhurst, in the New Forest, was chosen as the location for a military hospital because of its large country houses and rail links to Southampton.
The Tile Barn Centre was the site of No 1 New Zealand General Hospital, where injured Australia and New Zealand Army Corp (Anzac) troops, as well as Indian soldiers, were taken after being injured in France.
Organiser Mike Matthews said it was a "fantastic opportunity" for the students, who have been staying with pupils at their twinned Twynham School in Christchurch, Dorset.
"It puts the world in a new perspective for them, just like those Kiwis who came over here 100 years ago," he said.